It seems that I'm posting once a week lately. For the past few months my life has been a little more stressful than normal, so I don't seem to be making the time to come online as often. However, I won't bore you readers with the unpleasantness that life sometimes hands out, so let me just catch up with some cheerful things.
~ CLBMX ~
Received Monday, Nov. 21st
Dorothy in Australia sent me too many goodies for the Bookmark Exchange. I can't believe all that she sent! But I loved it! Look!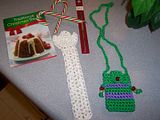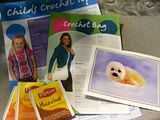 She chose to do a Christmas theme and she sent a small recipe book, two candy canes, a white and gold filament thread Angel bookmark, a steel hook, a cell phone holder, two patterns, 3 tea bags, and a notecard. Oh, and there was a pencil for my daughter Kelley, too, with "Australia" printed across it. Kelley took off with it, which is why it's not in the picture. Thank you again, Dorothy, for such a lovely package!
~ Crochetville Scrunchy Swap ~
Received Tuesday, Nov. 22nd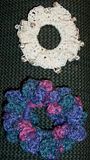 Angie has sent scrunchies for the swap in 3 separate packages! She was right when she said she'd save the best for last! Look at that beaded white scrunchy! Ok, it's my favorite, now! And the variegated scrunchy is crocheted in lovely variegated colors that I love. And it's such a FULL scrunchy! I love that! Thank you, Angie, for making this swap so fun! I've loved them all!
~ Crochetville Purse/Tote Swap ~
Received Friday, Nov. 25th
Today's mail brought this lovely package from Sharon in Washington. I found this lovely black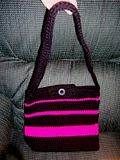 and fuschia purse in the envelope and definitely smiled when I saw the colors. I love fuschia! And I love pink and black together so this hot pink and black really cheered me up! I was also pleasantly surprised to feel that there was even something inside it! How sweet!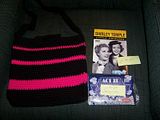 A popcorn and movie for my girls! Aw, thank you, Sharon! What a lovely purse and thank you for thinking of my girls, too!
It's been another lovely mail week. I leave you now with a picture of my children with their cousin whom I was watching during the week before and after Thanksgiving.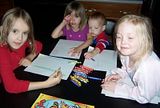 Btw, I hope you all had a nice Thanksgiving!