Several weeks ago, January 26th to be exact, I received a package from Ginny for the Hat Swap over at Crochetville. When I first held the box, I smilingly muttered under my breath "It's a Hat Swap, Ginny...that means ONE hat!" This box was too heavy to be a simple hat and with excitement I opened it to see just what it was that was weighing this box so heavily. Imagine my surprise when I opened the envelope laying on top of everything, my name emblazoned across it, and discovered it to be a Birthday card! It seemed Ginny "killed two birds with one stone" by not only sending me a Hat Swap package but also by sending me birthday greetings. And presents! Look at all she sent! Wow!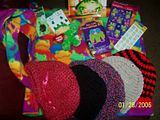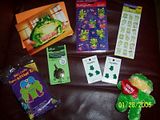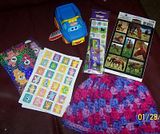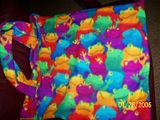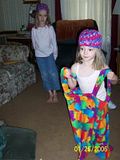 What was most special was that she sent something to each of my three children. Horse themed goodies for Kelley, Care Bear themed goodies for Jessica (and a hat for each of them, too!) and a toy truck for TJ! They loved getting something for themselves in one of mommy's packages. Thank you so much, Ginny!
And thank you for the 5 hats (6 if you include the one you sent before as a "test"), the Clover yarn cutter, and all the Frog-themed goodies (stickers, buttons, card, suncatcher, stuffed animal, and tote!) I was really so surprised and loved your package immensely. What a wonderful partner to were in the Hat Swap! Thank you!