Today's mail brought a wonderful surprise. By it I'm reminded that I have much about which to update my blog. So here goes!
~~SP7~~
A Secret Pal sent me a boxie which I received today. How it made me smile and oooh and ahhhh. I couldn't believe what she sent to me.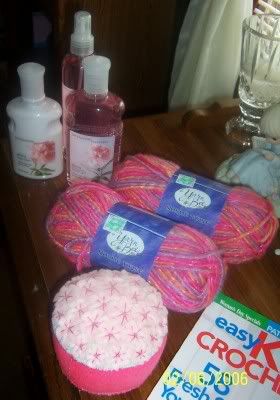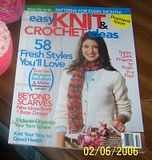 The item(s) that stood out the most was a set of Bath and Body Works lovelies. What stood out was the fact that it was Peony scented. Somewhere I mentioned that one of my favorite fragrances to receive in candles or lotions or what not was the Peony fragrance. I had purchased a Peony fragranced candle at Target years ago and fell in love with it. Of course, when I went back to find more, there wasn't any sign of the fragrant candles anymore. Though I've never seen that scent ever again, the fragrance has always stayed with me. So you might now understand my surprise to discover that my SP found the scent through Bath and Body Works. I never knew it was still out there and here it has been delivered to me! I am still amazed. Thanks so much, SP.
My SP also sent me a very cute flowery pincushion (I hope that's what it is), the Premier Issue of Easy Knit & Crochet Ideas by Woman's Day Specials (a magazine which I wanted weeks ago but have never found!), and two skeins of this lovely yarn Mosaic Twist by Yarn Bee in a color called "Iced Fruit". I love the colors! I'm not sure what I will make with this but I do see a little girls poncho in my mind. Or maybe a hat... or flower appliques...Very pretty colors. Thank you, SP, for the wonderful surprises you sent to me. I love them all!
~~January 25th, My Birthday~~
My birthday was almost two weeks ago and I'm so late in posting. It's just been so busy here and it seems everytime I try to sit down and type anything, I'm needed for something else. You mommies know what I mean. I've also been getting to bed at a sane hour which has been cutting out a lot of my computer time. But I've been enjoying the sleep. I wouldn't trade it for computer time. Though I have missed posting on my blog and keeping updated on my other favorite reads.

My birthday was uneventful except for the 3 packages I received from 3 ladies on the Crochet List Birthday Fun Exchange and various e-cards from my online friends. I didn't get anything from my family except my 7 year old daughter Kelley made me these cute "coupons" to redeem from her. Coupons that read things like "I will clean my room", "I will empty the dishwasher"...very cute and I loved that she made them. Oh, and though hubby didn't buy me anything, I guess the money he gave me from our income tax refund would qualify as a "Birthday Gift". Don't you think so? Well, I did get some yarn I haven't been able to buy for myself, so maybe I'll have a scarf to show you sometime soon or a wrap.

Here are the "coupons" from my daughter, Kelley: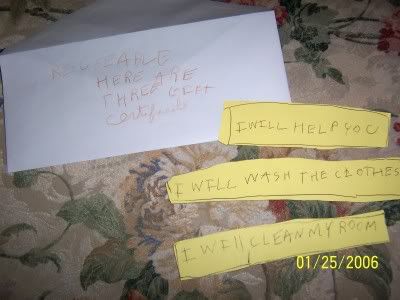 Don't you love that she wrote on the envelope "Reuseable"?! Love that!

I call this next picture "Can we open your presents now?" Let me tell you all that I could've opened my presents at 12:01 am January 25th since I WAS up. But no! I waited! My girls were as excited as I was about FINALLY getting to see what was in the packages that I did as they asked and waited until they woke up that morning before opening them.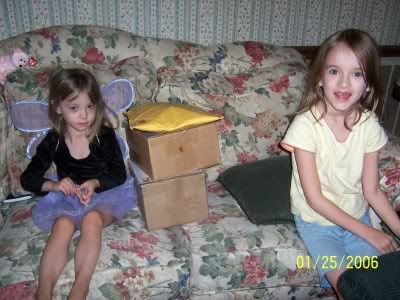 From Teresa at CLBFX:
Look how nicely she wrapped everything! What fun this was to open!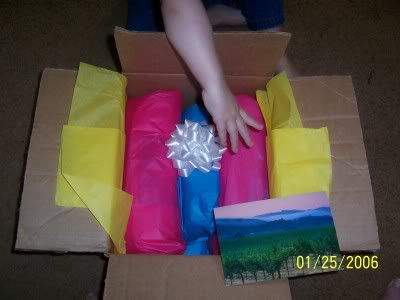 Or should I say, what fun it was to watch my children open!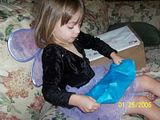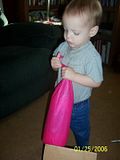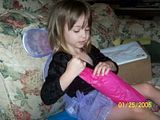 Here is what Teresa sent to me!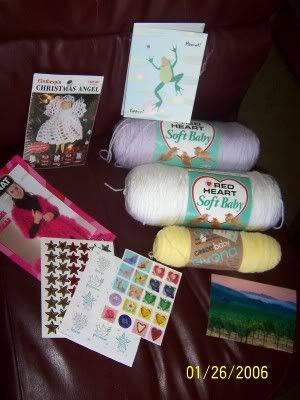 Stickers, a postcard for my postcard collection, free pattern sheets, beautifully soft yarn in yellow, white and lavender (I love the "soft" yarns!), the cutest green froggie birthday card (love green frogs!), and a wonderful Clothespin Angel kit (I've often thought I'd like to do one of these, but never have! Now I have a kit to try!) Thank you, Teresa, for everything. It was such fun to watch the children unwrap everything and be as excited as I was to open your presents.

From Liz, also very gaily wrapped:
Liz sent pattern sheets, beautifully soft lavender yarn which I've never seen before, some lovely pink Flapper yarn which is like the Bernat Boa yarn, a crafty magazine, a Debbie Macomber book (love Debbie Macomber!), a lovely handmade card, and last but not least a very interesting calendar/notepad holder. I've never seen anything like this but it's basically a perpetual calendar! 3 rectangular blocks with a month printed on each side, and two cube blocks with numbers printed on them. I simply turn the rectangular block to the correct month, and turn the cubes to the correct number(s)! I love this! My children did, too...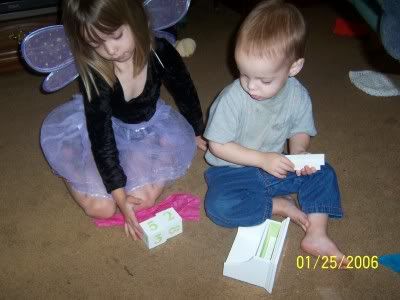 Last, but not least, Penny sent these goodies:
A lighthouse hand towel (love lighthouses!), some variegated black & white knit dishcloths (perfect colors for my kitchen decor), a skein of an interesting textured yarn in a seafoam green color (very pretty and soft), a pretty green "tropical" drawstring bag which housed the skein of green yarn, a Thomas Kinkade bookmark, postcards for my postcard collection, free pattern sheets, and a digest sized crochet magazine full of more patterns, and a birthday card with a lovely bird on the cover! Thank you so much Penny! I love everything!
That is about all for this post. I'll post more later....I'm too tired now to continue. Be back!