~HERSHEY'S "

K

I

S

S

A

B

L

E

S

", CANDY COATED KISSES~
Ok, I FINALLY got to try these!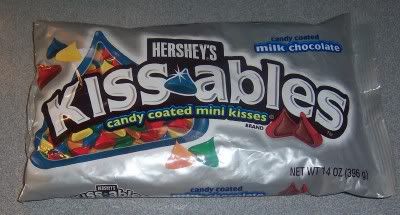 Ever since I first saw the commercial announcing them (oh the power of the advertisement), I thought "Aw! I gotta try 'em!" I love Hershey's Kisses! And look at them! How cute are they?


When I heard a description of them, I thought they couldn't be any different than M&M's. "Chocolate ... Candy Coating"... sounds like an M&M. But actually they are a little different. I'm not sure what it is...I think the chocolate of the Kissable is softer than the chocolate of an M&M. And it seems the coating on the Kissable is thicker than on an M&M. Though I'm not sure what the difference is, there is a slight difference. But the bottom line is, they're good ... If you like M&Ms.
And have you seen these?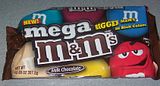 MEGA M&M's!!!!

Well, here are what they look like compared to a regular M&M...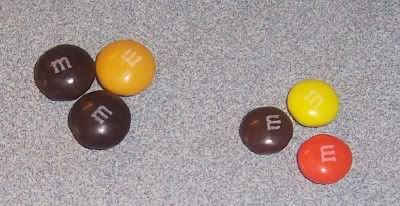 They are a little bigger and heavier than the regular M&M. And they're yummy .... if you like M&M's! (Can you tell that I do?

)
~FLOWERS!~
Ok, I mentioned yesterday that I'd try to get some neighborhood pictures to show you how Spring has arrived here. Enjoy!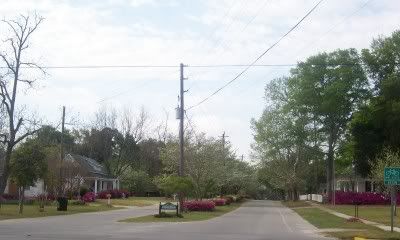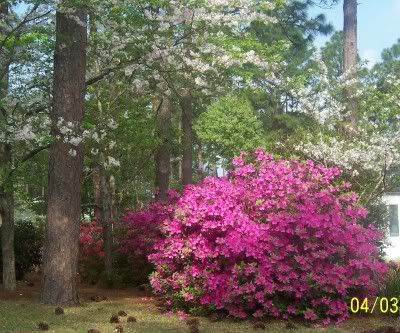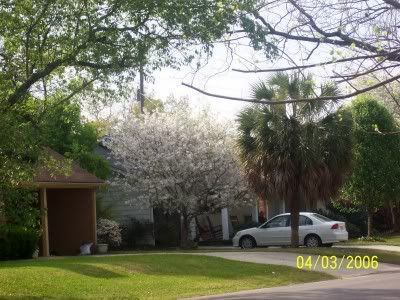 I know the date setting ruined some really good pictures. I had set my camera to turn off the date feature, but because the door on my camera is broken, I often have to hold it closed and my camera shuts off when I don't do that well, resetting the clock feature when I get it to come back on. I want to go around town again and take some more pictures and be sure that I turn that date feature off. The pictures are really pretty otherwise. Hope you enjoy the views!
And now, I really MUST get busy making up some more things for the festival our town is having on April 15th. Kelley's birthday is that day, too. And she's going to be dancing with her class there at the festival. I hope I get a chance to see her perform. I will have a craft booth set up and I'm hoping my friend, and possibly my mom-Janis, too, will be there and I could steal away to watch Kelley.
So ciao for now!