~~~~~~~~~~~~~~~~~
PAPER DOLLS
~~~~~~~~~~~~~~~~~
Did any of you play with paper dolls when you were little girls? I may have, but it's not something that really sticks out in my mind. However, I recently rediscovered it (I think my mom still likes paper dolls and she might have brought it to my attention in the recent past). I searched for them online after my mom mentioned the topic and now my little girls love them! I printed some out several months ago for them. This weekend, I did it again. Look at these adorable paper dolls! These are actually paper dolls from Good Housekeeping Magazines's 1920 issues. I loved the "old-fashionedness" of them. Saturday I spent some time printing this "family" of paper dolls and began cutting them out last night and today. The girls have played with them for hours today! If it hadn't been such a beautiful summer-y day, they probably would have played with them even longer instead of enjoying the outdoor and the warm sunshine today. I suppose that paper dolls are one of those "toys" that brings out the child's imagination. It's been certainly amusing listening to these dolls' "conversations".

You can find a whole plethora of paper dolls links here. Of course, there are many more sites than just Marilee's list of sites and you can find them by doing any internet search. I find I keep returning to Marilee's paper doll selections, however, and so I will suggest hers to start your journey in the paper doll world.

~~~~~~~~~~~~~~~~~
FLOWERS!
~~~~~~~~~~~~~~~~~


Like I mentioned above, the weather has just been gorgeous here in east central Georgia today. Our temps were in the high 80's and even now at almost 11 pm it's a nice cool, but not cold, evening. Here are some of the flowers blooming in our neighborhood.

The wisteria is from the site of our library. It's growing wild and Kelley wanted to stop and pick some on Thursday, and so we did. Their fragrance is so sweet.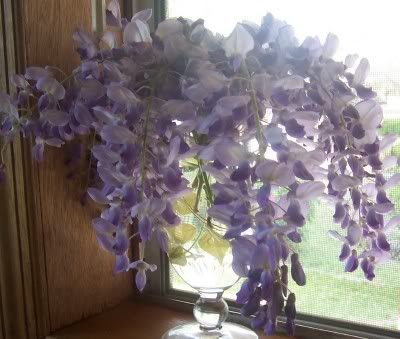 And here is one of my first roses. I love how satiny the petals look.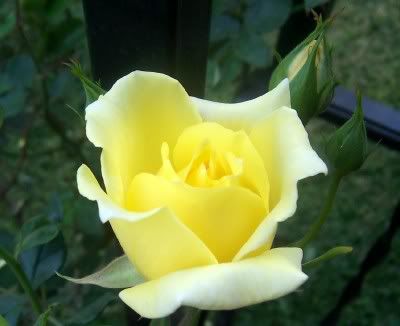 And this was amusing to me. Wondering where Kelley had gone to outside, hubby and I peeked around the corner of our house and found her....reading!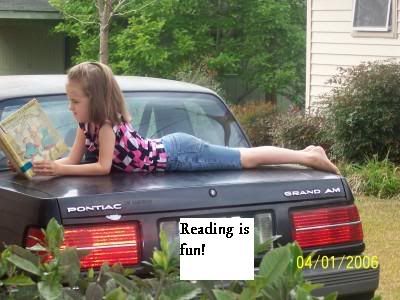 This scene is actually kinda bittersweet to me. I sense another rung on the ladder of independence has been climbed. She just went outside, climbed on our car, layed down and read! I can imagine the 'freedom' she felt in this simple act. I don't know if any of you know what I'm saying. But I imagine to myself that I know how this pleased her to be able to just climb on a car and get comfortable and read without asking anyone nor telling anyone that she was going to do this. I had to snap a picture of this moment before she realized I'd discovered her. I love this picture. She will be 8 on April 15th..... sigh......


~~~~~~~~~~~~~~~~~
POSTCROSSING
~~~~~~~~~~~~~~~~~


Postcrossing strikes again! Saturday this postcard arrived from Australia!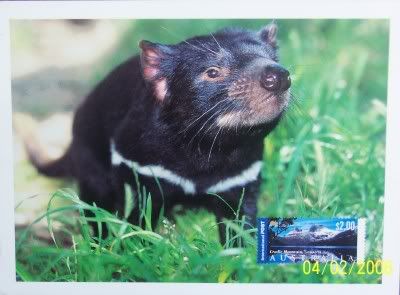 Now I wonder how many of you know what creature that is? It's a Tasmanian Devil the postcard and Elena tells me. And an interesting detail: They eat "road kill". Oh yum!

Well, that's all for now. I have more to say, but that'll be in the next post. 'Til then! TaTa!