SP7 has ended, and today I received a REVEAL PACKAGE from my Secret Pal!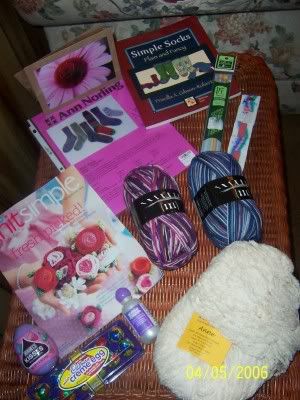 My Secret Pal was Elizabeth H. of Illinois (ironically, the person I was sending to was also named Elizabeth!) I enjoyed pulling out items from the box one-by-one. The yarn, the needles, the candy, everything! I believe there was a theme to this package, SOCKS! I have never knitted socks (can you imagine????) and so I loved this package as it had EVERYTHING to get me started! Yarn, size 8 knitting needles, 4 dpn, a sock instruction book, and a separate sock pattern sheet!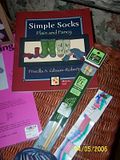 I have no reason not to try a pair of socks now. Elizabeth says that it really is not that hard and is quite fun.

You should have heard me squeal with delight when I pulled this out of the box.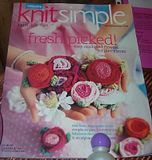 I saw the magazine a few weeks ago online and the flowers on the cover just tugged at me (I love flowers!) Though I wanted to get this issue, I didn't know when I would ever be able to get the magazine myself. So I was simply overjoyed when I saw it in this box. Thank you, Elizabeth!

The card Elizabeth enclosed looked like one that she created with her own talented hands.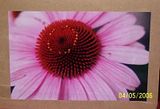 The flower on the cover is one of my favorites. I had had business/calling cards made awhile back with this very same flower illustrating them. For some reason the name of this flower escapes me...I can't think of it's name! But I love it and was very surprised that of all the flower photos Elizabeth could have affixed to this card, she picked one of my favorites.

I'm looking forward to using the large hank of "Pigtail". Elizabeth writes that it makes a lovely, fluffy facecloth or dishcloth, and I believe her. It's very soft.

And finally, the candy! (Like I need anymore!) I chuckled when I pulled out the plastic Easter Egg of Hershey's Kisses, because I just saw these for the 1st time yesterday at my local store and thought they'd make great RAOKs or additional gift items for swaps. So I bought about 12 eggs (each with different candies inside) to share with others! I LOVE Hershey's Kisses, Elizabeth. I'll try not to eat them all in one sitting!

Happy Easter, Elizabeth!

Thank you so much for being my Secret Pal. I enjoyed it!