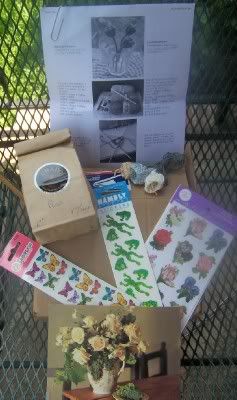 This week I received this wonderful box of goodies from my SP8! She said the theme she had in mind was "English Garden", and I think she did really well matching everything up under that theme. There is a bag of "Rose" tea from a shop near her home, and it really smells yummy! My SP8 also knit these 3 flowers and included the pattern! I love flowers! I just adore stickers, too, and look what she sent to me! Three packages of stickers, butterflies, green frogs and flowers. I think she has been paying attention to my likes 'cause I love all 3 of these things - butterflies, green frogs and flowers! Now she did mention that she hoped I and the children enjoyed the stickers, but hey, I'm thinking this is MY SP exchange and therefore MY stickers! ha ha! Naw, I do share my stickers with my girls, but I'm just saying, this
IS
my SP swap. Thank you, SP8, for the lovely surprises! I really enjoyed the card illustrating a vase of roses and the lovely handwritten note inside.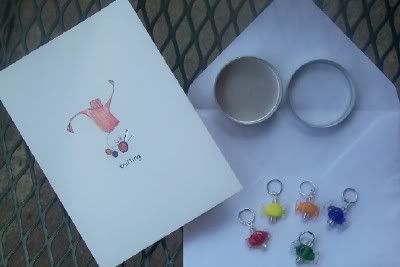 Yesterday's mail brought the first set of stitchmarkers in a stitchmarker swap in which I am participating. These beauties are from
Jenn
in Pollock Pines, CA and they look like little pieces of wrapped candy! They're beautiful, Jenn, and I love them! Thank you!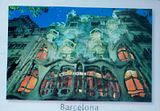 A postcard arrived yesterday from Spain. I love Postcrossing, and I love to receive all sorts of cards, but excuse me, am I the only one who "sees" something in this postcard? It looks eerie to me. Tell me someone else sees what I'm talking about! I'm not good at those illusion postcards, pictures hidden in a picture, but while this looks like the front of a hotel building, there's something else that seems to be there, too. Does anyone else think it looks a little...creepy? I love postcards but this has to be the most unusual I've received yet. But thank you, Lou! I love architecture!
And of course a Stamp picture! This was affixed to the Barcelona postcard. I love stamps!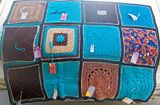 I finished Cindi's Comfortghan that I requested and assembled through Heartmade Blessings. I had received 13 squares, (plus another one after I'd begun assemblying) instead of the prescribed 12, and instead of not using this 13th square (it fit so perfectly with the colors of the other 12 squares received), I opted to attach it to the comfortghan so that it could be folded up into a pillow! Here are the pictures of it spread out and then pictures of the front and back of the "Pillow" after the comfortghan has been folded up.