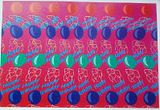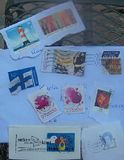 Thank you also for the stamps. I love them all! I love the Stork stamp and the accompanying postmark. The lighthouse is a favorite, too. And the Flag stamp from Finland is so unique! It's not the typical square or rectangle shape, but the shape of the flag actually coming off the stamp is outlined. How interesting!






FOLLOW-UP ON PINEAPPLE TOP




Oh! Some of you have asked how the black Pineapple Top went over in the pageant and how did my little cousin do...well, she won the Casual Wear portion! The grandmother received lots of compliments on the top. She wants another one made now. Her daughter Heather wants one for HER daughter! Now to find some yarn in an "aqua" color. And I need to get the little girls' measurements around her ribs. I believe she's 9 but it'd be nice to know what size to make this next one! I'll get a picture up soon of my cousin in her black Pineapple Top with the white capris and matching black flowers on the legs of her capris.




CLOSING....



And as I close this long blog entry, I leave you with pictures of the boy who is now 2 years old. This is TJ today (well, on Monday actually). He's not that sleeping baby under the bearghan anymore. Such a big boy. We took these pictures at the Welcome Center which is located right off Interstate 16. Isn't this a lovely scene with the lake in the background? Normally we have geese coming up to us, but they must be off taking care of the cute baby geese on this day. We didn't get to see those little cute furballs waddling behind their mommy and daddy on this day. But TJ looks contented enough.