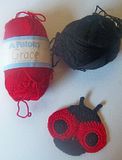 Being on the bookmark-making kick that I am, I had a copy of Eva's bookmark pattern (which you can find on her page here). However, wanting to see how it worked up in thicker cotton than #10 thread, I used a small amount of Paton's "Grace" cotton, in black and red, and created a coaster! I did add the black to the bottom of the ladybug to make the ladybug more "round" so that I could set a glass on top of it. It's an easy pattern. Now I will find some black and red floss and make the actual bookmark.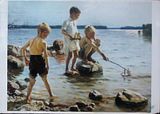 Through Postcrossing, a postcard from Finland arrived today! Ranna tells me that the picture on the postcard is of a painting by Finnish painter Albert Edelfelt, called "Playing Boys on Beach". I think it's an adorable postcard and it makes me long to be at the beach myself! I found an interesting website telling more about this Finnish painter. He was obviously very talented. You can read more about him here.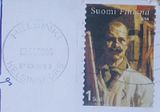 The stamp Ranna affixed to the postcard is of a painting by another important painter named Akseli Gallen-Kallela. You can read more about him here. I love interesting stamps! Thank you, Ranna, for this lovely postcard.