Postcards have arrived today and yesterday through the
Postcrossing
project, feeding my love of paper.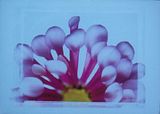 Yesterday's mail brought this beautiful pink flower from Poland. I believe this is the FIRST time I've received a postcard from Poland. I don't know if you the viewer can see the detail to this postcard, but each petal of this flower is actually a tube.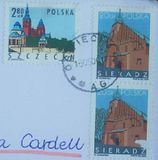 It's really fascinating to realize that whenever I look at a flower, I really only see the petals as a whole and haven't realized that each of the petals is a world in its own. Amazing! My "Thank You!" to Aldona in Poland for this beauty and also the colorful stamps!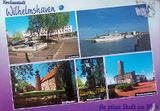 Today's mail brought this card from Germany. Sabine is a 15 year old girl who lives in Wilhelmshaven and she says that it is at the North Sea with 83,000 inhabitants. Wow! Thank you, Sabine!
To feed my love of yarn, this bookmark from the CLBMX arrived today.
Joan Presnell in Alabama sent this lovely bookmark and two pattern sheets and a personal handwritten note. Gotta love those handwritten notes! Joan tells me that her 10 year old daughter believes this is simply a red circle with black dots, but I assured Joan that when I pulled it out of the envelope I immediately thought "Ladybug" so she must have done something right! It looks like a ladybug to me! :) Thank you again, Joan! I love ladybugs!
Today is my youngest daughter's birthday. She is "
a whole hand
"! I don't know where the past 5 years have gone. I really don't. I know it's cliche, but the time has certainly flown, and I barely remember the past several years. Perhaps if I quit feeding my children, they'll quit growing....no, I'm just kidding! I know it's inevitable that they grow and grow and grow and then one day they're out there making their own lives...but I won't think of that now. I'll think about that tomorrow when another 15 years have flown by, and I'm left thinking "Wasn't it just yesterday that she turned 5?"....
Happy

Birthday

,

Jessica

!