I DO! So sit back and enjoy!
~~ONE SKEIN SP SWAP~~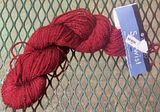 This is what my
One Skein SP
sent to me for the month of June. On June 26th, I received this very pretty skein of Berroco SoftTwist in a lovely burgandy shade. I loved this when I had purchased some for a Yarn Swap earlier in the year, but I didn't have an opportunity to purchase some for myself then. I'm very glad to have my own skein to play with!
~~CROCHETVILLE KITCHEN/BATH SWAP~~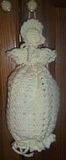 I opted to send my partner
Cindy
items for her kitchen in this swap. Unfortunately, I didn't get a picture of everything I sent to her...dishcloths, coasters, misc. goodies...But she took a picture! You can see and read all about her receiving it
here
. The only picture I got was of the "Bag Lady". This was the first time I made one of these, and I liked her very much. You store your extra plastic bags in her skirt, pulling them out one at a time when you need one. I thought she should have been larger actually, but that could easily be remedied in the future with a bigger hook. I will be making another one, as DH was quite surprised when he realized I was giving her to someone else!
~~SP8~~
You might remember the postcard I received from my SP8 a few weeks ago. That black and white postcard of The Art Institute of Chicago. She said it was a hint as to what my next package would be. Well, the hint was the "black and white" part! How clever!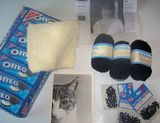 I received a wonderful package from her on Monday, July 17th, and I must say when I pulled out that box of OREOS, my children were quite excited! That's our favorite cookie in this house! She included a very soft white cloth to brush the Oreos off our faces. She also sent 3 skeins of Patons Grace in black and the pattern for a knitted "knecklace" I'd admired online. Then there were black beads and a black and white note card with a kitty on the cover. I loved everything and how it was all "black and white"!
~~DISHCLOTHSRUS PUFFY!~~
Also on Monday, July 17th, this package arrived! This was my first month swapping in the DishclothsRUs group. I knew I signed up for a Dishcloth swap. What I didn't know was how generous this group swapped! I felt like I was in a SP swap!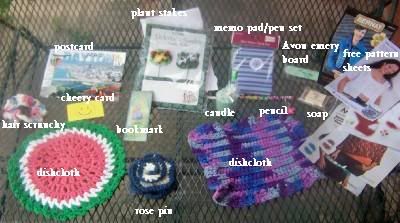 My thank you's once again to Elaine G.
~~C'VILLE SUMMER SECRET PAL~~
My Summer SP over at Crochetville was none other than
Juli
! Juli kinda REVEALED herself early in the swap...like with the first package!...because we've swapped before, and as she said herself, she's not good at being sneaky. (And she's not! She just joined the
Favorite Color Swap
and she lasted one day, ONE WHOLE DAY!, before accidentally revealing herself.
) So though I knew who my SP was these past two months, it was still fun receiving from her.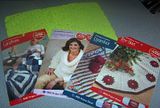 Her Reveal Package which arrived on Tuesday, July 18th, included some free pattern sheets and a yummy lime green knit dishcloth. This is my 2nd knit dishcloth from her and I love them! Thank you again, Juli!
~~C'VILLE ACCESSORIES SWAP~~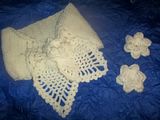 This is what I made for Kiki for the Accessories Swap. Sure it's 100 degrees outside, but this is for the cooler weather...a neck warmer and ear muffs (the roses have a loop to loop over each ear). The pattern is from an OOP issue of Crochet With Heart.
I haven't heard from her as to how she liked it or if she even received it, though I expect she should have by now as other packages I mailed the same day were received the first of last week. But then that seemed to be a theme last week...noone writing to me directly to let me know their package arrived. Besides Kiki, I still haven't heard from one other person to whom I sent goodies to. But then again, perhaps Kiki simply didn't like it....

Here is a bookmark I crocheted. It's a pattern from a booklet, not my design, though I have crocheted this in white before. I added beads this time, though you might not be able to distinguish them in this picture. I love this pattern.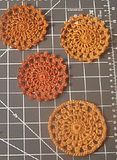 And finally, some coasters I crocheted while watching TV one evening. Can you tell I'm longing for the colors of Fall? Actually, it's the cooler temperatures of Fall I'm yearning for!