ENVELOPES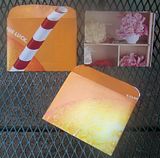 Because I can't mail those little coin envelopes (that I made yesterday) through our Postal Service all by themselves (too small), I created a bigger envelope for each of my partners, also using a template and pages from magazines. Then I slipped the little envelope of stickers into it, my "calling" card (or business card) and a little note.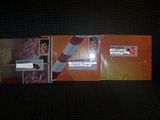 This is what they looked like finished! The first two show the front of the envelopes and the last one shows the back, where I place my address label. Then I taped up the folding flap on the back and down each side for extra security against coming unseamed during transit. I love them! Wouldn't you like to see a fun envelope like one of these in the mail rather than the ordinary white or brown ones? I would!!!
CROCHETVILLE SWAPS
Tina
received the "C'ville Toy Swap" package yesterday that I mailed on Monday. Wow! I was impressed with the speedy delivery! I mailed it from a neighboring town. The last Priority Mail package I mailed from my town took 7 days to deliver! Unbelievable. But then all my mail coming from my town seems to be slow. Therefore, I drive to another town when I want something delivered faster than a snail's pace.... hey, maybe that's why it's called "SNAIL MAIL"!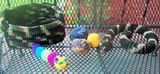 So now that she has received the package, I can post a picture I took of the goodies I made for her boys in the Crochetville Toy Swap!
She also made a post to her blog and included handsome pictures of her boys. You can see it by clicking
here
. It was such a relief to see the smiles on their faces. Especially the 14 year old! I imagined that the
caterpillar
and
camo snake
might go over well with the 3 and 9 year olds simply because my 2 year old loved them! But I didn't know what to make for the 14 year old and finally decided on a "
box
" that I remember Tina said on a post that she liked and would like to make for her son one day. So I tried my hand at it. To know that he said "this is cool" to my first and not-so-perfect "box", and to see him with his CDs in it already, just left me breathing a sigh of relief! In the Teen years, there are so many changes going on in ourselves and who knows what teens like and don't like. I also made three hacky sacks and threw in some of the McDonald's "Cars" still new in their package, one for each of the boys. Or maybe all for one of the boys as it looks like the Eon likes them!
I also finished my Kitchen/Bath Swap (LATE!) and will be mailing my package to Cindy today. No pics yet, because she might come peeking at my blog just for that reason!
FREE YARN!
Ok, I know that got your attention, but it's not FREE for
everyone
. I received a skein of yarn simply for leaving a comment on
Keri
's blog last month! I never expected I'd win, but I remember the thought floating across my mind "You
CERTAINLY
won't win, if you don't comment, so go ahead and play along. Who knows what can happen..." And BAM! I won!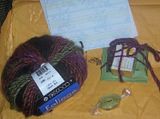 For winning her comment drawing, she sent a ball of Berroco "Foliage", two tea bags and a tiny little box of tea wrapped in a strand of the "Foliage", and a handy measuring tape wrapped into a "piece of candy"! Isn't that just adorable!
Wow! Thank you, Keri! I loved the ball of Berroco "Foliage". It really does look like the foliage in Autumn! I wish I had a picture to show you what it will become, but I haven't turned it into anything yet! I'm thinking a cute little drawstring pouch/purse for the Fall... Any ideas, Readers? This is like the "One Skein" theme...create something with only One Skein of yarn!
CHILDREN...

...and bunk beds...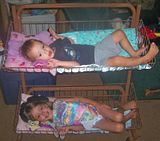 I bought this heavy metal rack at a yard sale recently for $5. The owner had been showcasing shoes in it for sale in her yard sale, but I saw other possibilities for it. No, not to give my children a bunk bed...cute, you two. No, I saw a wonderful opportunity for this "shoe rack" to come up in the world and hold beautiful, soft, and colorful yarns from all over the world!! But for some reason, it seems these two little lambs are always climbing into it! Hey, well, it does give you an idea of how big this rack is. It's made of strong metal, is on wheels, and all it needs is a new coat of paint in a much more happy color!
... and playing "dress up" ...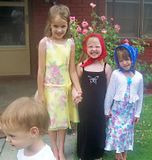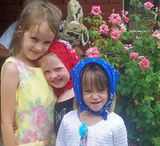 These next photos are of my girls and their cousin "dressing up". Aren't they adorable? Oh there goes TJ out of one of them....can't be caught in this picture, he says.
A SKY PICTURE!
And finally, I leave (yes, I'm really closing this novel!) with this Sky Picture. I've seen other bloggers posting pictures of their sky in their blogs, and so one day I took my camera with us when we went for a drive. We were looking up at the clouds as we rode along to see what shapes we could make out. We saw fish, dinosaur, even a clown! And then we saw this....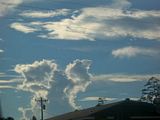 Do you see what I see? What? Tell me. Really. Leave me a comment and tell me what you see in my sky. And if you see what I see, I'll send a "cloud" of yarn to you from my stash. And it really is a heavenly "cloud" of yarn! In the event several of you see what I see, then we'll have a drawing to determine the winner. I'll leave this "contest" up for 3 days. On Sunday, we'll have a winner.
Now remember...to win, you have to play.
Do you see what I see?