~~PROJECT COLOR SWAP - JULY ~~
Dana
sent this wonderful July Project Color Swap package which I received last week (or the week before)! She had wrapped almost everything and made it such a joy for my children and I to open! (you didn't think I'd actually get to open all these goodies ALONE, did you?)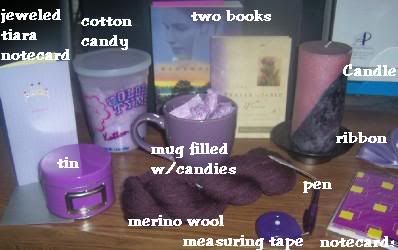 I absolutely loved everything! I can't wait to create something with the soft merino wool. Nor can I wait for the opportunity to sit down and read the book by Karen Kingsbury! I've heard good things about her writing. The cotton candy lasted ... not long! My children loved it! Oh, I had a few pulls from it, too. I'm always amazed how it truly looks and feels like the texture of cotton! If I didn't know that it would actually melt in my mouth the second it hit my tongue (pure sugar!), I wouldn't dream of putting that cotton in my mouth! Ever felt the texture of real cotton in your mouth? Yuck! But thankfully, this cotton was not only quick to melt but also so very sweet! Yum!
~~ SWAP-BOT SWAPS ~~
The following are pictures of swaps I've received through
Swap-bot
. I've thumbnailed all the pictures in the interest of space, but if you click on them, you'll get a larger image.
~~"Wise Words Postcards" Swap~~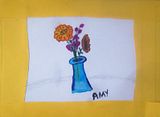 This is the first postcard I received for this swap and it came from Amylyn in California. Besides handmaking her card, she wrote these "wise words" by Confucius:
"The man of wisdom is never of two minds;
the man of benevolence never worries;
the man of courage is never afraid."
Now I'm not sure that the man of courage is never afraid. There is certainly room for fear in a courageous man. A courageous man simply doesn't let fear rule him, but rather his determination. Lovely quote, however.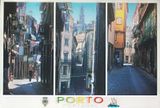 This postcard of Porto, Portugal was sent by Marlene C. in Portugal. The "wise words" she quoted were by Bertramd Russell:
"The trouble of the world is that the stupid are cocksure and the intelligent are full of doubt."
I got a chuckle out of that one. Perhaps because I saw some truth in it.
This postcard of the Cherry St. Bridge, Showing Draw Open, in Toledo, Ohio was from Ashley, also from California. She quoted Ralph Waldo Emerson:
"Cards were at first for benefits designed, sent to amuse, not to enslave the mind."
Although the context of this quote was most likely referring to card games, Ashley thought it was fun to think about this quote in the context of our postCARD swap. And I have to agree. These postcards should amuse our minds, but I fear the collecting of them, and desire for more of them, might indicate rather an enslavement.
~~"Postcard Addicts" Swap~~
In this swap, we were required to send two postcards to five partners. Yes, you see that I've only received from 4 partners....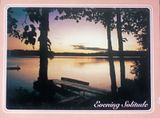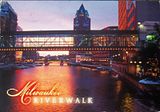 These two cards were from Amy in Wisconsin.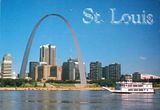 These two were from Marie in Missouri.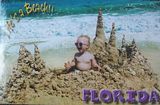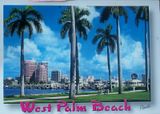 These two were from Heather in Florida.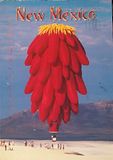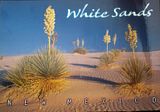 These two were from Julie N. from New Mexico.
~~"Postcards Worldwide" Swap~~
In this swap, we were required to send one postcard to five partners. I've only received from 3, but perhaps the 2 I'm lacking are overseas and the mail is simply taking longer.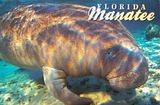 This was from Lee A. in Florida.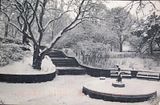 This one was from Liz C. in New York.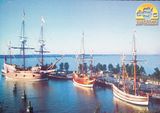 This was from Meagan in Virginia.
~~"Knit/Crocheted Dishcloth" Swap~~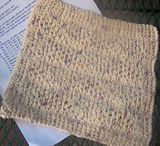 This knit dishcloth is from
Swap-bot
's "Knitted/Crocheted Dishcloth Swap". Paula sent this lovely sand colored knit dishcloth and also the pattern for it, too! Not only that, but Paula is also right here in Georgia! Wow! I mean, Swap-bot is filled with people from all over the world. What are the chances you're going to be partnered with someone right in your home state???
~~"Sticker Sheet Swap" Swap~~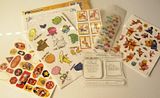 This package of stickers was from Connie K. in Arizona. It's actually a second package which she very generously sent to smooth any disappointments I had from her first package. The swap required 5 different sticker sheets. Two of the sheets I received from Connie initially were duplicates, so I actually received 3 different sheets and 2 that were duplicates. However, she did include some extra sticker singles and "to/from" labels which I mentioned to her credit in the Rating process. So I was surprised to receive a second package from her, apologizing for any mix-ups and generously sending MORE stickers! This was really too much. She definitely appeased any disappointment I felt with the first swap. I'm going to send her a "Thank you!" note. This was definitely above and beyond the swap requirements.
~~"Stickers With A Twist 3" Swap~~
I received this cute notecard and the stickers from the coordinator of the "SWAT3" swap. I was quite surprised at my disappointment with it. I think that perhaps it was because she was the initiator of this swap and my expectations were higher with the stickers coming from her. I've received a good selection of new and interesting stickers from everyone that I've received from. I just felt like except for 1 or 2 of these, these were stickers that she didn't care for, which is fine to pass along, but in the chance that your partner wouldn't care for them either, I would think one might include a good selection (at least half of the total sent) of stickers more modern and interesting. My first disappointment with the "Stickers With A Twist" series and ironically from the coordinator's selection. I did like her cheery notecard, however. And the sticker depicting a girl with a balloon.
~~"What Do You Do To Relax?" Swap~~
This swap also ran below my expectations. But then I thought it was just my misunderstanding of the requirements. I received a very nice letter from Liz C. in New York telling me about herself and her love of knitting!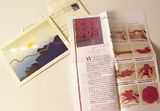 She even sent me a pattern sheet for the knitted "Twist Stitch Rose" which was new and interesting to me. However, I was expecting something more "tangible". If she chose to tell me that knitting relaxed her, I suppose something small that she knitted (a dishcloth, coaster, bookmark...) or even a skein of yarn, was what I would have expected in this swap. So while I was initially disappointed, I figured it must have been my perception of the requirements that was off.
However, an email later that day from her indicated that she regretfully felt like she misunderstood the requirements. She had received from the person given her name, also a lady who knits to relax, a skein of yarn, knitting needles, and a pattern magazine! Wow! So when Liz received all this, she contacted me and apologized that she felt she misunderstood and would be sending me a little something else. I admit I felt some relief to read her words and her intentions.