...naw! It's not THAT post! The one that I left off from my last post. Not YET, anyway.
This post is actually going to be "More Goodies That I've MADE!"
ONE SKEIN SWAP
I think it is safe to post this as my One Skein partner doesn't know who I am ... yep, I'm late in getting my final month's (August) swap out to her and thus haven't "revealed" myself yet.
However, this is what I made with one skein. I saved the ball wrapper/insert but can't find it now! I was going to include it with the gift so she'd know what this was made of. But alas, it's nowhere to be found.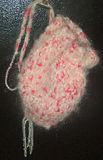 I made a drawstring purse, a small one to fit keys, compact, cards, money, etc. I beaded the handle a little bit and also strung beads from the bottom.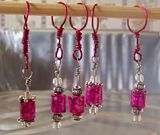 These are some stitchmarkers that I made to tuck away inside the bag along with a letter and misc. little things! Her favorite color is pink, did you know?
I hope she will like these. Now to wrap them, package them and mail!
Ta ta for now!