Wow! Not to make you all jealous, but look what Nicole sent to me for August's Project Colorswap! It JUST arrived! I've only had time to savor unwrapping the gifts and oohing and aahhing over them and setting them up for their photoshoot, downloading off my camera, uploading to Photobucket, and here they are! Go ahead! Click on the photos to get a better view. I had to break it up into 3 pictures just to get everything photographed!
Wow, Nicole! The scent of Apple Pie is in the room! No, she didn't send a REAL apple pie...she sent apple pie tarts! And that's candle tarts not pastry tarts!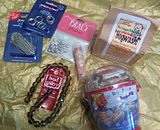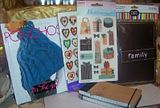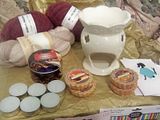 Nicole sent:


beading supplies (glass beads, silver flower beads, head pins-which I needed more of!, and split rings),
"Hogwash" soap that touts that it "washes just about Anything!" (this is new to me and very interesting),
Iced Coffee" flavored Lip Balm by Avon,
an adorable little tin holding some "Peanut Butter Bars" candy (which is all gone! There were only 6 pieces ya'll! All at the top of the tin! Those marketers make it look like it's overflowing, but it wasn't!),
a "Family" photo album,
two little pads of notepaper (notice all the "neutral" color?),
2 packages of stickers (hearts and gift boxes - never seen either of these before!),
a Vogue Knitting book on Ponchos (yes, I love this book, Nicole. I'd love to have ALL these little Vogue Knitting books they put out in this size. They're so compact and easy to carry around with you.),
some beautifully soft yarn! (2 skeins of Crystal Palace's "Merino Frappe" in a beautiful burgandy tone with flecks of other color mixed in...it's SOOOO SOFT! and a hank of "Araucania Nature Wool" which is made in Chile!),
a travel tin candle scented of "Cinnamon Apple",
6 tea lights,
2 "Golden Spiced Pear" tarts,
2 "Mom's Apple Pie" tarts,
and a BEAUTIFUL ceramic candle burner.
Wow!

Everything is just WONDERFUL, Nicole! Thank you for your generosity. I love it all and everything will be put to use.