My local homeschooling group sent an email letting us homeschooling moms know of the library's monthly "Crafts Tuesdays" for children (ages 6-12) which occurs the second Tuesday of every month. This sounded like fun so I took Kelley and Jessica.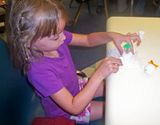 The craft was ok. They made a "ghost". As I'm not into Halloween, my enthusiasm was dampened just a little. I wasn't totally disappointed because after all, I was in a library. If it can't be a bookstore, a library is still heaven to me. A story was then read about pumpkin patches (I don't even remember the title! Bad mommy! I really was paying attention...HONEST!) and it was cute enough. The second story was a longer book and had more of a Halloween flavor to it (witches, Halloween, etc.), and I decided the girls and I would go find the water fountain for a little water break. I then let them browse through the children's books while I listened for the humming voice of the Reader in the next room to finish her story. When I didn't hear the voice anymore, and noticed the children moving around in the room a bit, I took the girls back in to pick up their "ghosts". We decided on the way home that we would "alter" the "ghost" a bit and make it into a cute little girl. There was an orange "hair bow" after all, and the filmy white fabric could be a "dress" instead of a "sheet".
The girls were also given an oversized postcard, a reading incentive, from a local restaurant, Applebee's. According to the postcard, they are to read a book, have an "apple" stamp (which is already stamped on the card) initialed by a parent, teacher or librarian, and after 10 books read they can take the postcard into Applebee's for a Free Child's Meal. That was a nice surprise to receive for each of them. The postcard also had a detachable "bookmark" for the children to use!
Kelley really loved the library. This is not our smaller local library but the neighboring college town's library. And it
is
nice! I love any repository of books whether it be a library or a bookstore! I'm glad to see Kelley has a love of books, too. She discovered this library had a vast collection of the "Little House..." books, and I had to slow her down because she wanted to check them ALL out! I told her "Let's pick a few, then come back and get more." Besides, she can actually get on the computer at home, put them on hold, and have them transferred to our local library, which happens to be at the end of our street, and we can WALK to our library and pick them up! We'd be saving the gas it'd take to drive a 1 hr round trip to the neighboring library, and we'd be getting some fresh air and exercise at the same time! I love that she is a voracious reader.
Jessica liked the library, too. I think she enjoyed the stairs leading to the upstairs level the most, though. She loves stairs! She wants us to HAVE a house with stairs! I tell her to just let God know what she wants and maybe one day her wish will be granted. (God knows I would love to have a house with stairs, too...) My parents have a house with carpeted stairs that lead to the basement rooms and when we visit, the children just LOVE to play on those stairs. These stairs are what prompted Jessica to declare that she wanted a house with stairs, too. I vaguely remember that fascination with stairs myself. Were my parents as nervous and anxious each time I approached the stairs, though, as I am sometimes with my children? I'm not so much anxious with Kelley and Jessica anymore because I know they know how to "play" on the stairs. But TJ, at only 2, he's going to have to be taught. Otherwise, he'd just take a step down, not realizing the depth of the step, and he would easily overbalance and go tumbling down. The girls have been teaching him to sit down at the top of the stairs, scoot to the edge and then "bump" down each one. My dad says this is how he and mom taught us, and that's the way all children should learn. I can agree. It's simple, pretty safe, and allows the children access to something "fun" and scarey at the same time, leaving them laughing and happy.
The upstairs level of the library contained the video collection, and I checked out 3 movies, "Maid in Manhattan" with Jennifer Lopez, "Sahara" with Matthew McConaughey, and a DVD collection which had 3 of George Burns and Gracie Allen movies. Although I've seen both of the former movies before, I believe this is the first time I've seen any George Burns and Gracie movies. I've seen a few movies with George Burns in it, but none of these older black and white movies with his wife, Gracie. According to
Wikipedia, the free encyclopedia
, George Burns was born in 1896! He and Gracie married in 1926. She died in 1964. And he died in 1996. I always thought of George Burns as a "gentleman" and his comedy wasn't crass and rude. I was glad to see him reach his 100th birthday. I think I might have even saved the newspaper from 1996 when he died. And now I think I might have another favorite in black and white movies, George and Gracie movies.
At the library I did check out a couple of knitting books (mostly children's sweaters) and a few beading books. I also found the fiction book "Needled to Death" by Maggie Sefton, which I've been wanting to read for awhile now. It's a sequel to her "Knit One, Kill Two" book. Should be a nice light mystery.
All in all it was a nice evening at the library. It was made even nicer when I heard Kelley say back at home "Today was a good day!" An hour at the library was obviously a good ending to her day. I'm with her there! I wholeheartedly agree! End my day with thousands of books surrounding me, and I'm a happy girl.
Any other book lovers out there? Anyone else who could just spend HOURS sitting in a bookstore or a library? Anyone else just love to wander down aisles of books and look at various titles, not looking for anything in particular, but just wanting to see what this book's subject is or that book's? And then an "Oh! That sounds fascinating!" and pulling a book off the shelf you never really was looking for in the first place but suddenly you just have to touch it and slide it off the shelf and open its pages? And just feeling that you'll never have enough time to explore the entire library's or bookstore's shelves, yet feeling like you MUST! And I never do have enough time to look at all the shelves. Which is probably why I'm left hungering for more and the desire to return again soon!
Ok, so I'm getting a little wild here. I'll stop.
I'd still love to hear from kindred spirits out there who just simply ADORE books and the buildings that offer up thousands to them!