1. What is/are your favorite yarn/s to knit with? What fibers do you absolutely *not* like?
My favorite yarns are anything soft to the touch. How simple is that? :) There really are no fibers that I've come across yet that I "absolutely don't like". Scratchy wool would be a 'yech' (or an "ouch!") but they've come a long way with wool these days and I am surprised at how soft wool can actually be. I really like all types of yarn. The practical and the novelty.
2. What do you use to store your needles/hooks in? I
like to store my needles and hooks in pretty vases. In fact, here is a picture!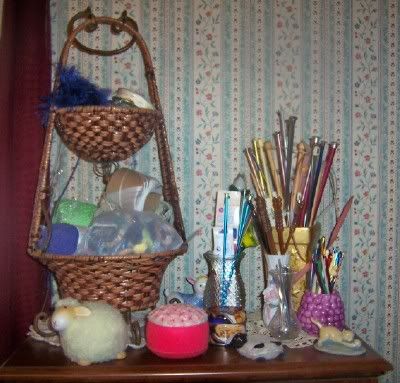 3. How long have you been knitting & how did you learn? Would you consider your skill level to be beginner, intermediate or advanced?
I've been knitting since 1998 when I taught myself from a book. I was pregnant with my first child, and I just wanted to know how to knit! The day I determined to learn was when one of my favorite crochet publications "Magic Crochet" featured a beautiful sweater in the back of one of their issues. I knew I had to make it! But as I was looking at the instructions I saw knitting terms! It turned out that the sweater was knit with crochet on the trim or edging. I was disappointed. But that is what made me say "I am going to learn to knit!" So I got a book with instructions and set out to teach myself. I joined an internet "Knit List", too. I almost gave up trying to learn to knit, however. It was so awkward feeling to me (holding a needle in each hand when I had always been used to holding only one hook in one hand when I crochet.) And then to be expected to LET GO of one needle while I pick up yarn and wrap around the needle I had just let go of??? Jeepers! Ok, granted I WAS holding the dropped needle in my other hand, but still! This was all just too strange and foreign, and I felt I just couldn't do it! My good friends on the Knit List, however, encouraged me to persevere and try the continental method. And as a crocheter, I had figured out that I could actually feed the yarn from the left (as I do when I crochet) instead of the right and hold onto my needles the entire time! So this was called "Continental"! I could do this! And I can. :) Having said all that, I'm still a baby when it comes to knitting and knit infrequently compared to crocheting. But I'm so happy to know that I CAN knit, and when I do pick up the needles, I find it so relaxing. I knit simple things. Don't expect me to knit a sweater! I'm not ready for that! ha ha! I'd consider myself beginner.
4. Do you have an Amazon or other online wish list?
I do have an Amazon Wish List. It's under Karla Cardell! :)

5. What's your favorite scent? (for candles, bath products, etc.)
Oh my...PEONY! The Peony flower is my all time favorite in scents. It can be in bath products or candles. I first smelled the scent in a candle and fell in love with it. Then a SP found some Bath and Body Works bathing products in the scent and oh my! That didn't take long to use up! And recently a Secret Sister sent a bar of French soap in the Peony scent! Besides Peony, I also like the Rose fragrance. Probably any floral fragrance for bath products or candles. I also like apples and cinnamon and pumpkin pie scents for candles. Vanilla, too.
6. Do you have a sweet tooth? Favorite candy?
No, I don't have a sweet tooth....I have 28 sweet TEETH! My favorite candy is chocolate anything (milk chocolate rather than dark chocolate). I love chocolate covered almonds and chocolate covered raisins. I also like Peanut Brittle (that's considered a candy wouldn't you think?). "Peanut Butter Logs" are also a favorite candy. And peppermints.
7. What other crafts or Do-It-Yourself things do you like to do? Do you spin?
Other crafts I enjoy besides playing in the yarn, are cross-stitching, beading, scrapbooking, card-making, anything to do with paper (origami)... And yes, occasionally I do spin. You can find me outside in the yarn, arms out to the side, just spinning around with my girls! How 'bout you?


8. What kind of music do you like? Can your computer/stereo play MP3s? (if your buddy wants to make you a CD)
I enjoy Contemporary Christian music, some Gospel, Classical, Jazz, some Pop... My computer will play CDs. I don't know if I can play MP3s.

9. What's your favorite color(s)? Any colors you just can't stand?
My most favorite color is Fuschia. Royal Blue would probably be a close second. I am most drawn to jewel tones, but I also like warm muted tones of the Fall like burgandy and hunter green, navy blue. I really like all colors including neons and pastels (think Pink!). I love the color combinations of Pink/Black, Pink/Brown and Turqoise/Brown. Brown (alone) would probably be my least favorite. Put some other fall colors with that brown, though, and I'm good.
10. What is your family situation? Do you have any pets?
My family situation is that I have a husband of 17 years and 3 children, 2 girls and a boy. They are 8, 5 and 2 respectively. We also have one indoor cat and one outdoor dog.
11. Do you wear scarves, hats, mittens or ponchos?
I do enjoy scarves, hats, mittens and ponchos. I enjoy more of a feminine and "dressy" look in any of those rather than a "rugged" look. "Casual" is good but thick and rugged is my least favorite. "Aran", for example, can be feminine and dressy in the right yarn. But otherwise, "aran" seems a little rugged and bulky and I like that in an afghan rather than a wearable. :)
12. What is/are your favorite item/s to knit?
Right now, dishcloths and scarves!
13. What are you knitting right now?
Nothing on the needles presently, though a dishcloth will be soon.

14. Do you like to receive handmade gifts?
Of course!

15. Do you prefer straight or circular needles? Bamboo, aluminum, plastic?
No preference, though plastic is probably my least favorite. However, there is an up and coming crocheter in the family (my 8 yo daughter) and she wouldn't mind plastic. I'd wouldn't mind trying a pair of wooden knitting needles, like walnut or rosewood... I have a Clover Bamboo set.
16. Do you own a yarn winder and/or swift?
I do have a yarn winder but not a swift
.
17. How old is your oldest UFO?
Hmmm....not sure.
18. What is your favorite holiday?
My favorite holiday is Thanksgiving.
19. Is there anything that you collect?
I collect postage stamps (new and used), postcards, BOOKS!, "paper", YARN.... I also like Sheep anything, ladybugs, green frogs, dragonflies, rainbows and waterfalls.
20. Any books, yarns, needles or patterns out there you are dying to get your hands on? What knitting magazine subscriptions do you have?
I am dying to get my hands on the book "The Happy Hooker" the S&B Crochet book. Also, "Knitting Over the Edge" by Nikki Epstein. I really must look and make sure I have those titles right and authors. The "Knitting Over the Edge" that I'm thinking about has on the cover the pretty pink/rose colored knit flowers as an edging...Gotta verify. I have no magazine subscriptions at the moment. My favorite knitting magazine is Vogue Knitting and Interweave Press. Though I wouldn't mind any knitting publication. I have no crochet subscriptions either if you'd care to know. ;-) I love "Crochet!" magazine.
21. Are there any new techniques you'd like to learn?
I'd like to learn to knit cables. I'd like to learn to needle tat. I'd like to learn to spin, other than that spinning I do in the yard under the blue skies!

22. Are you a sock knitter? What are your foot measurements?
I have not gotten up the nerve to try socks, though I've been told it's not hard at all. I wear a size 8 shoe...is that the same as a measurement or do I have to measure Height/Width/Depth... ha ha

23. When is your birthday? (mm/dd)
My birthday is January 25, 1968!
Whew! I'm done!