I've been playing in the beads the last few days with my girls. They love to bead and make "things". I had 3 bracelets to make for a Bracelet Swap I joined over at Swap-bot, so I figured I could get creative with my girls and make some of my swaps at the same time. I had intended to use my love of yarn and thread to crochet or knit a bracelet, but time ran out on me, and I resorted to just beads this time. I took a picture of what I came up with, but I don't know if my camera took such a great picture of them. My daughter Kelley made that blue one on the far right for her sister Jessica. Isn't she so sweet?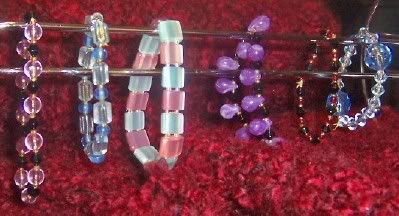 I've also been making knitting jewelry, aka "stitchmarkers". Do you see a theme here?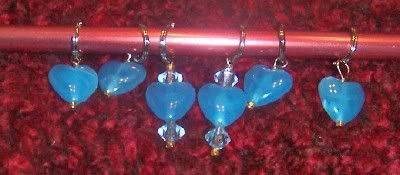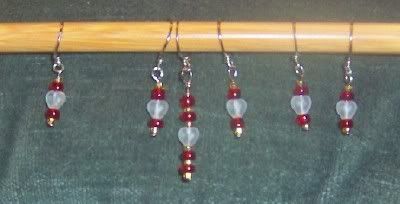 I love to make stitchmarkers. In fact if any of my readers like to also, and want to join in on some stitchmarker exchanges, come join us at
StuffKnittersWantandGottaHave_Exchange
! A wonderful knitting friend,
Maile
began this Yahoo group just 6 months ago in July 2006. We've enjoyed several exchanges there already and look forward to having more yarnsters coming to join us. Especially if you not only like to play in the yarn, but also have a fascination with beads, too.
Speaking of exchanges, there's another exchange I'm in that I must give a shout-out about! It's
The Great Bookmark Exchange
! Another knitster friend,
Juli
created this exchange back in May 2006 and while we've had some great exchanges through the Summer and Fall, it's been quiet since the holidays. We're ready to waken this sleeping swap! In this swap, you exchange a book AND a bookmark with a partner. You can use any art form you'd like to create your bookmark, sewing, beadwork, needlepoint, plastic canvas, cross-stitch, crochet or knit, any craft you can think of. There is a survey you can complete and leave on your blog and/or the swap's site, and your partner can refer to it when putting together your package. I hope you crafters who like to read, too, will come and check it out! We have lots of fun there!

And if you like to exchange just bookmarks, there's another bookmark exchange I've been a member of for a few years now. It's the Crochet List Bookmark Exchange. Now in this exchange, one of the requirements is that you are a member of the
Crochet List
. And considering that it is a "crochet" exchange, the bookmark needs to be crocheted. (You can send a crocheted one and then another one made with a different craft, of course.) If being on the Crochet List is no obstacle, then come join us at
CLBMX
. Maria runs that exchange and she does an EXCELLENT job.