Today's mail brought two swaps which really brightened my day. The ladies were really generous in their swap packages.
This first swap was for the "
Little handmade bag o'stuff
". Basically use any craft you want to make a "little bag, pouch, tote, purse, or whatever you want to call it, and then put something in it just for fun". My partner, Renee, made a very adorable bag from a pattern she found at craftsters.com. I loved it! The colors are so warm and cozy. I will enjoy using this bag. The "clasp" is a brooch! Isn't it pretty?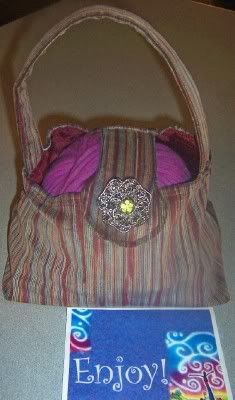 Then, if you can believe it, ALL THIS was INSIDE the bag! Wow!
There was a ball of fuschia colored yarn - no label, but it feels like it might be a wool? I bet it'll felt!; chocolate covered blueberries - yummy! and almost gone!; an oval bar of lavender soap which has "inner self" inscribed on the surface of the soap - love lavender and soap!; a spool of "close to my heart" brand ribbon for the holiday crafting; a little "Heart in Hand needleart" pouch bearing a small pillow craft with a cross-stitch pattern and enough thread to complete it; a package of DMC Stitch Bow Floss Holders; scrapbooking supplies - stickers, die cuts, journaling boxes and photo mats; and then a journal on which she spelled out my name with letter stickers! How cool! At first, I thought she had found a journal with my actual name on it and I wondered WHERE! I can NEVER find any personalized gift with my name on it. If I do, it's always spelled with a "C" instead of a "K". But no, she just made it look like my name had been there all the time. Great job! I'm going to love using this.
Thank you, Ranee! I loved everything! Even the cute American Greetings card/note you printed out! Beautiful, bright and happy colors! And Happy Belated Birthday to you, too - a 40th birthday the day after my birthday! Wow! Oh, wait, sorry...you didn't WANT me to advertise your AGE on my blog? Oops!
From the "
Swap Detective
" swap, Michelle did an excellent job learning about me and sending perfectly "me" items!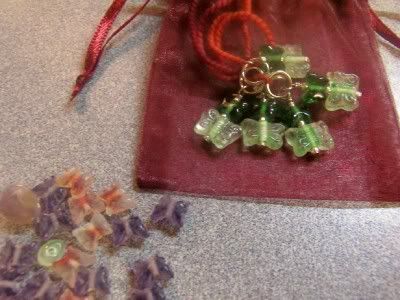 Look at all the yummy yarn in the perfect colors, muted jewel tones, rosey and purples, and pink! The Fun Fur is the perfect shade of pink so that I can make a scarf for my Red Hat Society gatherings since I have to wear pink and lavender (a "lady-in-waiting", you know). All three balls of yarn are perfectly "me"! Then she sent a cute Ladybug plush - my son TJ kept this for a long time today after I opened the package. I was worried I would forget about retrieving it for "picture and blogging time". I remembered it, though! She also sent some great knitting notecards (I can never have enough of these cards - I'm always running out!); some adorable Clover Needle Holders in the shape of little sweaters (I bought a set of these for myself a couple of years ago and loved them. Wasn't able to get more, so I am SO HAPPY to have been given these!); some beautiful green butterfly stitch markers in a little drawstring pouch (love stitch markers and I adore butterflies!); and a baggy of extra butterfly and misc. beads! Wow! Oh, I did forget the three packages of chocolate eggs she sent! I had them in my fridge stiffening back up...they had gotten cracked and melted a bit in their bags (it's actually gotten hot here with temps in the high 80's this week! Yay!) I told my 5 year old daughter to just go stick them in the fridge and the chocolate would not be so messy for her...she's my little "Miss Priss".
Thank you so much, Michelle! You did a beautiful job of sleuthing! You had me pegged! Even down to putting REAL stamps on the packaging and not that boring metered sticker the post offices like to use. 'Cause I love stamps!