Yesterday I was viewing
GeorgiaPeachez
's beautiful holiday decor pictured on her blog, and I LOVED the silver tinsel tree she had pictured. Strangely, when I was young, I liked nothing silver. Nothing! In jewelry, it had to be gold - I thought silver jewelry was boring. No gray clothing. No gray paint. Nothing! Yet now, at age 44 years, I love silver anything! Silver/gray paint, silver jewelry, and silver Christmas trees! So seeing GeorgiaPeachez's tree I just melted inside. Soooo beautiful! I wished I had a silver tree....
And then today I was looking through totes of Christmas decor I had packed up from last year, and in the bottom of a box I found a 2' fiber optic tinsel tree...in SILVER! Wheeeeee! I only VAGUELY remember getting this tree last year. Or did someone give it to me...I can't remember. But I don't remember even using it last year! It is supposed to have an adapter, since it is a fiber optic tree, but it was not in the box. So I'm not sure if someone gave this to me or I bought it at the thrift store after Christmas...Regardless of how I obtained it, imagine how THRILLED I was today to discover that I - *I* - had a SILVER tree! Ah, simple joys.
I'll get a picture uploaded soon to share with you.
Here's that picture I promised!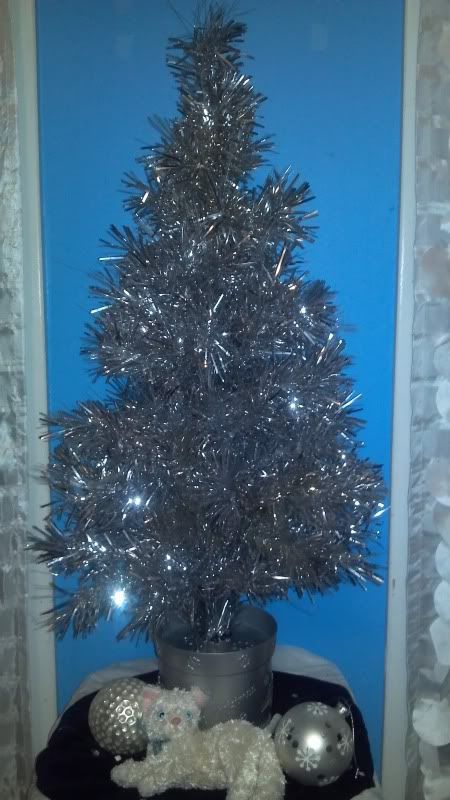 I didn't decorate it this year, but maybe next year I will have some vintage ornaments to add. I'd like to find some pink or turquoise or lime green ornaments. Did they make those colors "back then"? Whenever THAT was.