It's been a long day for the first day of 2013. I wonder how many times I'm going to mis-write the year this first month of 2013...
I have few New Year's resolutions this year. They're "few" but they can encompass a lot. For instance, my number 1 New Year's resolution is to "Take better care of myself". That means a lot of things. No, "dieting" is not one of them. "Diets"are short term fixes that I believe do long term harm more often than not. "Eating healthier" is more of what my resolution encompasses. Take better care of my skin and hair is another part of the resolution to take better care of myself. I'm also taking more time to make my room a sanctuary for me. It's a place I can take a "time out" and relax and rejuvenate so that I can be a better mommy, wife, and person.
In an effort to improve my sanctuary, I am crocheting an afghan for my bed. It will be gray and white and be done in 12" squares primarily. I mean, who knows, I might change it up as I go along, but 12" squares is the theme at the moment. Here is the first square.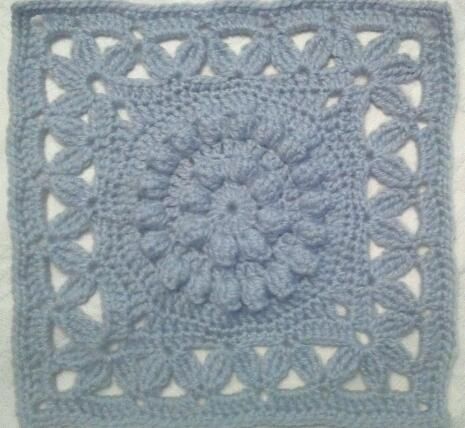 It is made in Phentex brand "Angorel", color #40 Porcelaine. I only have 5 - 50 gram skeins and it takes 1-1/2 skeins just to make one 12" square. I'd like to make more than 3 gray squares, but unless I can find more of this older yarn, this color will be limited in my afghan.
Over at
Crochetville
, I have joined a CAL of sorts. It's called "15 projects in 15 days CAL". The basic rule is to begin on Jan 1st and work on one different WIP, or start a new one, every day for the first 15 days... and then repeat. Now I'm not sure I can put down this first project on the second day to begin something else, but perhaps I'll tweak the idea a bit. I could continue my WIP on the 2nd day but pick up a different one, maybe a small project, to work on also. Who knows, I might want to continue the new project for the entire free time I have on that particular day.
My project for Day 1 is a ripple afghan for my second daughter Jessica. I crocheted an afghan a few years ago for my first daughter Kelley, so Jessica has been wanting one for awhile. She and I picked some colors from my stash (yay for stash busting!)...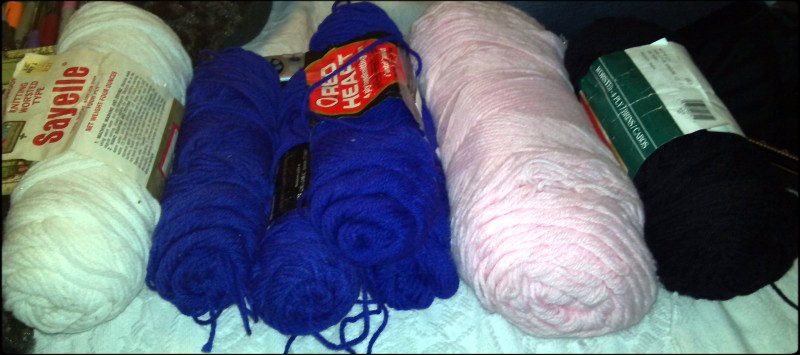 and I began her afghan last night. Here it is so far!
Jessica is very anxious for me to finish it, so I'm thinking there won't be much time to start a different project every day for 15 days for the CAL. At least not while she's watching...

BTW, I am using the
Easy Ripple Afghan
pattern if you are interested in the pattern whereabouts. It's a free pattern!